Ironman challenge
- Today was a wonderful day. I think that I am going to like the venue here in Lubbock, Texas. The swim course is a large square-type shape. I entered the water at Buffalo Springs Lake and felt like I was in a bath tub. The water was so warm that a wetsuit is not necessary. In fact, the water is almost too warm for a wetsuit. My swim today felt very relaxed and smooth.
We biked the run course today. The run course is hilly which is not to my advantage but I feel pretty good about the overall race. My run has felt good and relaxed lately and I am happy with how my legs have been feeling. I have not seen the entire bike course as of yet but will be previewing the course tomorrow.

The winds have been sustained and the temperature has been in the 90's. Not too bad for Texas. I think that hydration will be extra important during this race. I noticed that I was sweating more than normal on my short ride today. I will my making full use of my NeverReach and CarboPro.

I have been on a workout taper and I cannot wait for race day. You train and train two to three hours a day, four to five hours on long days. When the training slows, your body yearns to be pushed and worked hard. I am experiencing this now. I feel my body wanting to run 15 miles just to tire it out. I am looking forward to this race.

My day's highlight came at a mixer for Pro Triathletes. My coach,
Heath Thurston
, was invited and I was able to attend as a guest. While at the mixer, I was able to meet
Natascha Badmann
,
Heather Fuhr
, and
Luke Bell
. I got my picture taken with them and they signed the shirt I was wearing. Natasha Badmann was announced and I had to go meet her. She has such a good attitude when she is racing and seems to be a wonderful woman. It was a pleasure to meet her.
Buffalo Springs Prep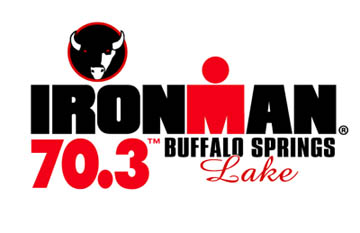 I am in Lubbock, Texas in preparation for the Ironman Buffalo Springs 70.3 Triathlon. This will be my second half iron distance race this season. I learned some valuable lessons in Ironman Oceanside 70.3. I am hoping to capitalize on the added experience.

Lubbock has been hot and humid with severe thunderstorms. Yesterday, I was out running with my coach and
agen sbobet online
to keep my legs loose and a thunderstorm came up from behind. The thunderstorm was being pushed by strong winds. The wind was carrying a massive dust storm and the dust was pelting our skin like rocks. When we made it back to the house in Lubbock, the dust mixed in sweat had us caked in mud. This was a fun run. I must say, I have never come back from a run muddy before.
Lubbock is a very clean city. It is a small city, but I certainly appreciate small cities. A gentleman by the name of Chuck was kind enough to provide us with a home to stay in. This saved me about $200 on hotel expenses and
agen poker
. I am greatly appreciative of this. The added travel to get to the longer races is getting expensive. Chuck is also providing home stay for a professional triathlete, Ryan Milton, from Australia. Ryan is on a US tour. You can checkout his website at www.ryanmilton.net.
Today, we will be going for a swim in Buffalo Springs. We will also be setting out for a short ride. I would like to check out the course a bit and get a feel for what lies ahead.
Sign up here with your email